BDB Retail Analytics- Revealing Hidden Insights of Digital Market
---
Retailers around the globe are now facing challenges in different forms by the way millennials shop. One day delivery, Ease return policies, Discounts, and Easy checkout have now become the new normal in the retail industry. Customers are now demanding rich shopping experiences that are personalized, connected, and engaging. Mobile devices, social networking sites, and other technologies have created a significant shift in customer behavior.
This digital era has given immense power to the consumers to compare prices, research products, review, and talk about it in various forums. The only good thing that retailers get back is the digital footprint that these consumers leave behind. The way to understand your digital customer goes through data analytics that can provide you meaningful Insights.
"Data is the new currency, and it is the medium of exchange between consumers and marketers."
- Lisa Utzschneider (Chief Revenue officer - Yahoo)
A vast amount of data already exists on your POS, website and utilizing them to maximum extent will help you get valuable insights. The opportunity in retail analytics is enormous. With our BDB analytical dashboards, retailers can:
Develop close relationships with clients based on a deep understanding of their behaviors and needs (Customer Segmentation).
Deliver targeted advertising, promotions and product offers to customers (Marketing optimization).
Balance inventory with demand so you are never out of stock or carrying excess inventory (Inventory Management).
Locate franchise stores, distribution centers, and other facilities in optimal locations. (Real Estate Insights).
Our BDB platform can pull data from your point-of-sale (POS) transactions, websites, credit programs, social media channels, current loyalty programs, enterprise resource planning (ERP) and other business applications. Data can be seamlessly pulled for analysis using our BDB's data pipeline architecture which can be scheduled according to your requirements.
Self-service BI and visualization tools can help retailers understand customer 's buying behavior and study how market trends vary over time. Retail analytics dashboards created on our platform capture billions of data points from various sources across the globe to churn insights out of them. These insights can be visualized on multiple dashboards throughout our platform for easy assimilation and quick actions. Having access to our retail analytics dashboards is like subscribing to an exhaustive market report, but the only difference being that it is all in real-time.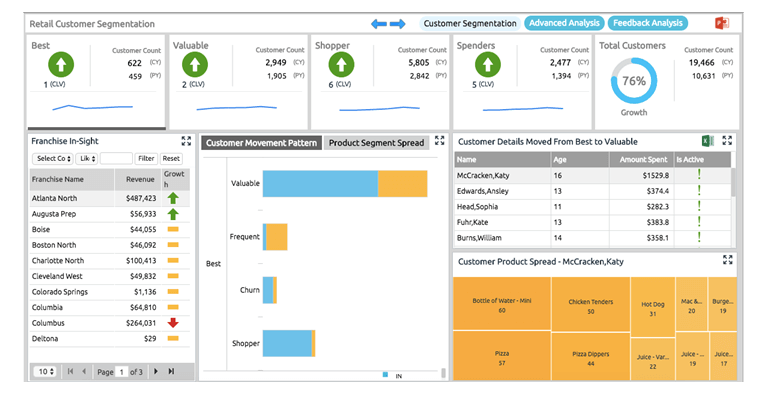 BDB (Big Data BizViz) platform helps you Integrate Data and Analytics into every part of your organization. BDB platform provides near LAMBDA architecture to bring together various data elements to deliver Advanced Retail Analytics. The solution is deployable on a private or hybrid cloud, to give millions of subscription users the insights they need.