Financial Analytics using BDB decision Platform
---
In today's era businesses needs accurate and appropriate information to help organizations to make the right decision. Finance plays a significant role in growing the business, it's an important business function that can help in developing the business strategy for future and improving decision-making on a day-to-day basis in real-time. Thus, there is a necessity for Financial analytics.
Financial Analytics can help organizations in defining financial goals, formulating business plans, monitor costs and revenue and forecasting future growth throughout the organizations. Financial Analytics can help organizations in deriving actionable insights, assessing financial health and financial position through different ratios & metrics.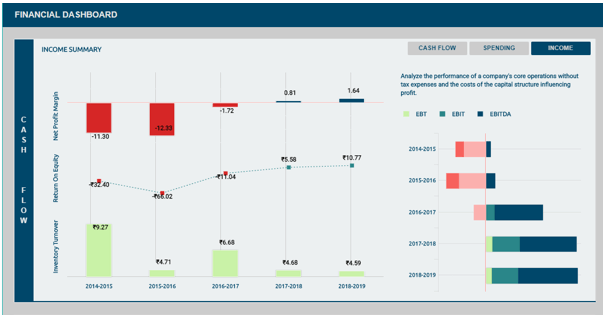 Financial Analytics can be leveraged using seamless end-to-end BDB platform. BDB provides financial dashboards that depict key performance indicators which are monitored in real-time. BDB gives an integrated overview of data gathered from different systems & sources and provides CXO's level dashboards.
BDB provides seamless and integrated end-to-end solution for banking & finance industry right from data ingestion, data preparation, predictive workbench to visualization through its best-in-class tool of dashboard designer and Business Story which is self-service Business Intelligence tool.
BDB platform comprises of different modules like Data Centre (for Data Ingestion), Data Preparation (for Data Cleansing, transformation, data profiling & data proofing), Predictive workbench (for Predictive Analytics such as regression, forecasting, clustering, classification), Dashboard Designer (for dashboards visualization), Business Story (for Self-service business intelligence reports).
Financial Data from different sources like financial statements can be ingested into the platform through a myriad of connectors available in the Data Centre module of BDB. The Data center provides data ingestion into the platform and helps in connecting with multiple databases to create data service and elastic search. After Data ingestion, financial data can be cleaned and prepared using Data Preparation Module of the platform for e.g. replacement of missing or inaccurate data and other transformations provided inbuilt in the platform.

This data can then be used as a data service or data store in the subsequent module for prediction and visualization. Algorithms in Predictive Workbench Module of the platform can help in forecasting revenue, sales and growth of the business. Actual and Forecasted data can then be fetched and used for visualization in the form of Dashboards and reports. BDB Dashboard designer has 60+ advanced charting components for visualization of financial data. BDB Business story gives access to self-service reports to business user to analyze data using simple drag & drop functionality without any external IT assistance. It lets the user explore data up to any granularity and drill down to get a deeper understanding of their data. BDB AI-driven search NLQ provides conversational analytics by which you can access data from your system or mobile by asking queries via text or voice command and can add the results to Dashboards & Business Story.