BDB Decision Platform in the Big Data World
---
The Information Technology (IT Industry) has been the backbone of multiple business and industries like manufacturing, retail, banking and so on. With growing business needs and consumer preferences in various industrial verticals their lies a problem among the IT sector to answer questions and to help the business know the unknown.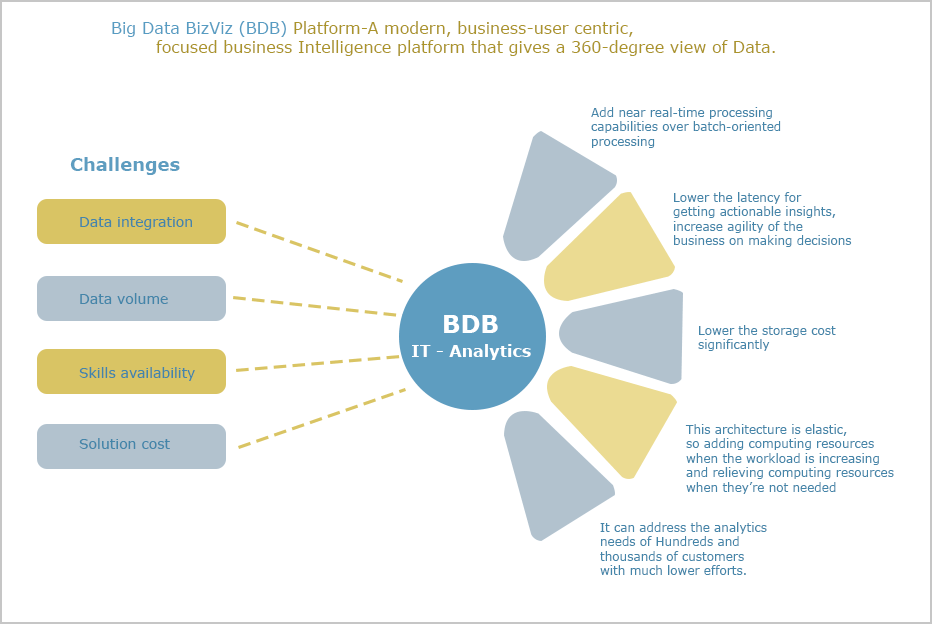 The one solution to all requirements that IT industry had was Big Data Analytics. Before the introduction of Big data analytics analysing the non-relational or large-scale data which are structured and unstructured was impossible. Big data was first embracedby the tech giants from Silicon Valley. Understanding the benefits that it could bring to any business; the word Big Data became a buzzword among the technology advocates. Big data provided a new approach to data analytics by introducing modern technologies and forecasting methods.
Big Data brings several advantages to companies. It allows higher transparency of information inside the organizations, enables broader, deeper and more accurate insight, therefore improves decision - making. It gives companies the possibility to create more complex and complete image about the customers and therefore offer tailored products and services.
According to IBM, we produce 2.5 quintillion (2,5 x 1018) bytes of data every day and therefore 90% of data in the world today was formed during the last two years.
The biggest challenge that most organizations are facing now is to create a "data-driven" culture as organizations now still rely more on their "intuition" than on data mining for decision-making. Top level management should emphasize on the importance of the data and help organizations in adopting a model where employees can maximize the use of data.
When considering your Big Data projects and architecture, there are several challenges that need to be addressed:-
Data integration – The ability to combine data that is not similar in structure or source and to do so quickly and at reasonable cost. With such variety, a related challenge is how to manage and control data quality so that you can meaningfully connect well understood data from your data warehouse with data that is less well understood.
Data volume – The ability to process the volume at an acceptable speed so that the information is available to decision makers when they need it.
Skills availability – Big Data is being harnessed with new tools and is being looked at in different ways. There a shortage of people with the skills to bring together the data, analyze it and publish the results or conclusions.
Solution cost – Since Big Data has opened a world of possible business improvements, there is a great deal of experimentation and discovery taking place to determine the patterns that matter and the insights that turn to value. To ensure a positive ROI on a Big Data project, therefore, it is crucial to reduce the cost of the solutions used to find that value.
Value and return on investment are critical to make the right strategic decisions. Like for any IT investments, Big Data initiatives should be measured and returns need to be demonstrable. Organizations are now looking for data analytics platform which is accessible and ready to use. They want a plug and play kind of technology that can be easily deployable and start getting insights from the word go.
Designed for enterprises, Big Data BizViz (BDB) Platform-A modern, business-user centric, focused business Intelligence platform that gives a 360-degree view of Data. It gives the fastest route to analytics. Its various plugins Big Data pipeline, NLP, Machine Learning, Predictive workbench, ETL, Cloud, Mobility, Self Service BI & Visualization act as All in One & can provide analytics Anytime, Anywhere on Any Device.
with our BDB platform, you can
Add near real-time processing capabilities over batch-oriented processing
Lower the latency for getting actionable insights, increase agility of the business on making decisions
Lower the storage cost significantly
This architecture is elastic, so adding computing resources when the workload is increasing and relieving computing resources when they're not needed
It can address the analytics needs of Hundreds and thousands of customers with much lower efforts. Horizontal scalability is extremely high.