Introduction
BI & Analytics have been Priority #1 for CIOs in 9 out of last 11 years. Why this is so?
Analytics is not just for Business Decisions; it has become the foundation of Business Models. Business user needs recommendations at every step in the business workflows. If IT does not provide that tool, business users will buy their own tools. Therefore market leaders are looking for Analytics platforms that can be integrated in their product and give seamless Analytics as a normal Business User Workflow.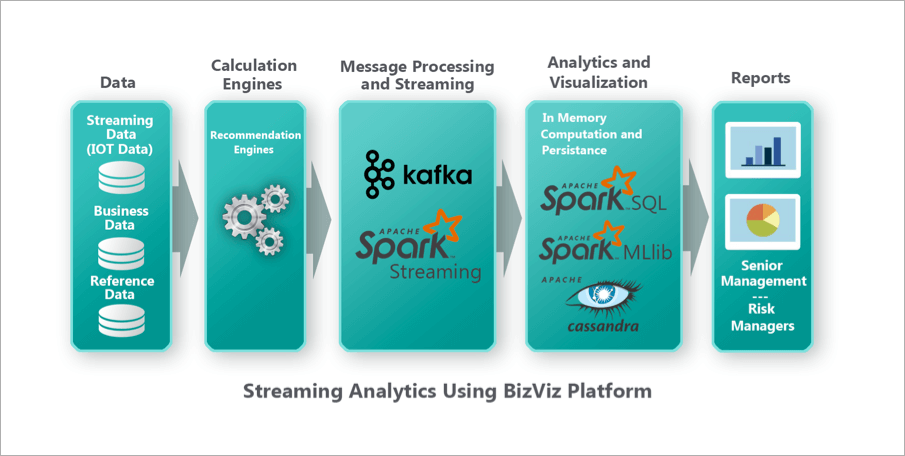 Modern Platform
A new generation of business intelligence platform puts data into the hands of the people who need it. Slow, rigid systems are no longer good enough for business users or the IT teams that support them. Competitive pressures and new sources of data are creating new requirements. Users are demanding the ability to answer their questions quickly and easily, which is a good thing.
BDB Platform is an enterprise-class business analytics platform that can scale up to hundreds of thousands of users. It offers powerful mobile and browser-based analytics which works with company's existing data strategy and security protocols. BDB Platform:

Scales up: Is multi-threaded

Scales Out: Is multi-process enabled

Provides integrated Clustering

Supports High Availability


Runs on both Physical and Virtual Machines
Completeness on Analytics

Business Story
It can be used to assemble and present your company's data as a story, helping complex data easier to understand.

BDB Dashboard Designer
Its a web-browser based application used to create informative & dynamic dashboards.

BDB Survey
It helps organizations create interactive, mobile-friendly surveys to gather feedback from clients & others.

Predictive Analysis
It is an analytical model that combines historical data, statistical algorithms, and information technology to predict likely outcomes.

Sentiment Analysis
It can determine and graphically display emotions from data extracted from social networking sites in order to provide business insight.

Social Media Browser
It provides a comprehensive solution for businesses to analyze data from various social media & any website having data (like E-commerce, Financials, or weather related etc.).
Security
Enterprise - Integration with all existing security infrastructure of the Enterprise. BDB platform maintains user and group information within its database.
SSO, SSL, Win AD Integrations, SAML.
Auditing – Who is accessing what data? Basic Auditing is available.
Custom Integrations – CA Clarity etc. More can be built.
Customization Flexibility
BDB seamlessly integrates inside and can be extended to an ERP Platform
BDB sits seamlessly within an organization's existing IT architecture, complimenting exiting investments in data warehouses, security systems and cloud-based solutions. There is an integration available with Share Point or CA Clarity Portal. Through Open via Doc call, a Dashboard/Business Story can be integrated in a web portal itself.
Data Infrastructure
Data Warehouses
Operational Data Sources
Ad-Hoc data Stores
Web Data – Write code to extract data from any sort of website.
Social Media Data – Read data from Twitter, Facebook on a real time basis.
Survey, Feedback Data
Business Forms Data
IOT – Streaming Data
In traditional analysis, data is stored and then analysed. But with streaming data, it's the models and algorithms that are stored (Predictive Analytics Tool), and incoming data (Through Spark Streaming Engine + Spark R Connector) is analyzed as it passes through them. All this happens as the data is being generated or transmitted, in real time. So before streaming, data is stored in the cloud or in any high-performance repository, it's processed automatically, with the analytics deciphering both its meaning and value. All this while, new data keeps streaming in.
Manageability and Governance
The core platform provides strong Manageability and Governance features for Admin, Super Admin & other IT staff members. BDB Platform provides this through Administration, User Management and Data Management modules. Here apart from License management and User management, centralized metadata driven data integrations is possible.
Operational Infrastructure
Management Systems
Automation and Scheduling
Source and Deployment Control
Existing 3rd Party Applications
Scalability
The OSGI based architecture is designed with scalability in mind. Please refer to architecture deployment presentations to understand this more.
Horizontal and Vertical Scaling
Web Services & in-Memory Data
Real Time Streaming and Big Data
Incremental Data Loading
Connectivity
BDB Platform is database agnostic. BDB Platform has maximum flexibility to integrate across systems with multiple operating systems, database types and versions. Our technology can incorporate, operate and match up physical sources, both internal and external, and an unlimited number of logical sources. Our technology is typically used with multiple sources with data coming from mixed operating systems and databases.
Time Factors
The OSGI based architecture is designed with scalability in mind. Please refer to architecture deployment presentations to understand this more.
An E-Commerce Application with more than 400 Functional Points was written in 7 months.
Integration with CA Clarity took 3 months.
Integration with Share Point took 2 months.
Integrated with social Media, leading e-commerce websites, weather channels etc have fallen in place, thereby making extraction of a new website possible in less than a week via social media browser.
Price Factors
BDB Platform provides different types of pricing options making it one of the most sought after Analytics platform:
Pay a brief amount to integrate with the platform and then pay as per the OEM licenses are consumed. This is possible both on cloud or on premise.
Integrate any one or 5 other analytics plugins.Customers can adhere to feedbacks on analytical plugins thereby investing in other plugins.
There is also an option for Volume Licensing and buying out unlimited licenses for a fixed amount of money.
Brand Value
BDB competes with Tableau, Qlikview, Domo, SAP Business Objects, Microstrategy, Pentaho, Talend, Splunk and other such world famous brands. These brands have been built on their performance and market share they have maintained in the last 10 years. BDB core team has worked on Business Objects R&D for 8 years & Consulting for 5 years before architecting this modern analytics platform. BDB team knows about all the nuances required to make a successful analytics product and has designed it to complete with the best. Acceptance of BDB Dashboard Designer based tool by CA as off the shelf Product for their PPM market indicates ability of this platform.
Support, Maintenance and Enhancements
BDB Core engineering team is based out of Indian Silicon Valley and the team can work on multiple integrations, deployments and support together. BDB has strong internal training methodology to train Employees, Consultants, Partners, Customers on this platform. The technology is the latest and most of the leading organizations have skilled resources on these technologies. Scalability of operations is not an issue.
Integration Use Cases



Data Analytics Portal in Education Space

E-Commerce or Retail Application
Understand the characteristics of the student population

Social Media Integration to create Sports (Cricket) Analytics Platform